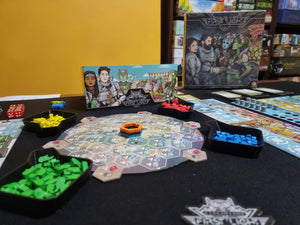 Circadians: First Light
By suayarcher
Circadians: First Light
What is it about / Mechanics of the game / How to play:
Circadians: First Light (CFL) is a worker placement game via the use of dice, triggering action spots to collect resources, upgrade/build capabilities and fulfil contracts. Players will roll dice and place their dice onto action spots on their player board in secret. These dice will allow players to either take actions on one of the nine different activation spots or collect resources for use. The game ends in 8 rounds and the player with the most points win!
My worst nightmare: Queueing up for something but having no idea what it is

Activation spots are open information location boards that are available to every player, but with two simple rules: (1) you cannot go to a spot that is already taken by other players, and (2) you must have the necessary resources to activate that spot. The activation spots are triggered by the pip value of the die (1 to 6) placed. Some activation spots require specific pip value, some require two dice of the same value, and some just plainly rewards you with X number of actions to carry out based on the pip value. Each activation spot's requirements are clearly stated, and players will plan (remember, in secret) which spots they would like to go at the start of each phase. One caveat though, players are encouraged plan for an alternative, or just pray and hope that their desired spots are not eyed by the player before them.
Double sixes, someone's lucky tonight

Resources in this game can be generated by placing dice on the player board or moving harvester on the planet board. The pip value of the die placed on the player board generates certain number of resources and players can upgrade their farm throughout the course of the game as well. Alternatively, another way to get resources is to command your harvester (through the activation spots) to move around the planet. Resources are required for every single activation spot and players should aim to generate each type of resource so that they can visit each location. However, if they cannot generate a single type of resource, players can always visit the Market and trade in their extra resources for another type of resource.
Poor Orange Player, went to the side of the planet where resources seem scarce

Players will slowly see their player boards get upgraded over time which allows them to pay less resources when visiting activation spots, generate more resources passively or simply collect victory points at the end of the game by meeting certain criteria. These upgrades tiles and activation spots are usually contested every round as they help players build up the engine to perform more efficiently.

Towards the end of the game, players will want to cash in all their generated resources to gain more victory points. And this is the only part of the game where players are penalised for putting a die of the same value, or putting a die that amounts to more than a certain sum in the column. Careful considerations have to be taken here as taking a setback can be detrimental to your engine, causing you to be one or two steps behind your opponents. The game comes to the close at the end of eight rounds and players will tally up their scores.
Someone was definitely hoarding resources, tsk

Caveat: My reviews are based on my playstyle and will differ from player to player. What I dislike may be your numero uno when it comes to choosing board games. So read and assess it for yourself.
What did I like about it?
Every character is broken. One thing that I did not talk about was asymmetric player abilities. Every player will receive two character boards and they will have to choose one. Each of the character is unique and possesses rule-breaking abilities that you would wish that you could have spilt personality and have both powers. But don't worry, the other players are also feeling the same.
Everyone's IMBA here, I guess that's why I am not selected to be a Circadian
Circadian is fun and it feels good blocking others, but it is never hopeless. One thing that CFL does well is that players are forced to prioritise their actions and take certain spots first so that other players will not be able to block those activation spots. And with that, it can lead to players feeling elated to see their envisioned plan work out, but can also leave others in frustration when their desired spots are taken. Thankfully, designers of CFL gave players so many options (note: 9 different action boards to go to and each board could have multiple spots) to do other actions which can also work towards their end game goals.
Replayability for this game is high. CFL thrives on player interaction (indirect) through the placement of dice. Every game feels different because there is a very low chance to keep getting the same or desired pip values to achieve a 'pure efficient' path of victory. Wide array of different character boards, upgrades and engine building cards help to expand replayability and with the easy teach in rules and nature of dice rolling games, CFL becomes a very easy to table game with fantastic replayability over and over again.
What did I not like about it?
Possibility of (long) downtime after being blocked. While there is a high in getting activation spots that you desire, there is also the chance of your desired spots being stopped short by another player. When that happens, players usually find themselves having to replan their whole turn as certain dice thereafter may not be viable anymore due to the lack of resources from being blocked. This can possibly lead to a long downtime as the affected player will try to reprioritise his move set as he cannot adjust the dice he has set at the beginning of the turn. And I assure you, it is not easy trying to remember all the spots (and its backup) you will want to go to when you have 5 dices out there.
So many resources, should I go spots A, B and D, or A, D then B… (One hour later) I think I should go C, F and E…
Not much variation in strategy but more tactical in nature. In CFL, most players will often find themselves playing tactically, reacting to the spots left available. There isn't much variation in strategy here other than to make the best engine, collect a heck ton of resources and find the best way to convert them into points. And this strategy remains the same throughout multiple games. What differs is the tactical decisions taken to get there, which may be fun for players who prefer working towards short term goals.
Solitaire with indirect interaction. CFL can be quite solitaire actually. Most of what you do only hinders your opponents and there is not much you can do to really cut them out or stop them. More of then than not, your action will indirectly and unknowingly (as planning is done in secret) block someone and all you get to do is just grin at your luck. However, there are many other paths your opponent can take, and it will be no time before he is back on track again.
Conclusion
Circadians: First Light is an easy to teach, light-weight game that I would introduce to new gamers. It is very easy to get into and can offer a fair amount of thinking for these players. The myriad of activation slots looks daunting at first but is easily digestible. Gameplay is smooth and flows quickly after the planning stage. First game should take about 2 hours and will sit comfortably at 1-1.5 hour with experienced players.
Would I recommend this game? Yes, for newbie board gamers.
Would it stay in my shelf? Yes, it fills itself as a gateway dice worker placement game.
---